In 2018, taking back the House was the one big way we put a check on Trump and the GOP. And in 2020 there'll be lots of key ways to further curb their destructive agenda and restore our democracy: flipping the Senate, defending the House, winning the state-level races needed to ensure fair maps in the 2021 redistricting—and, of course, taking back the Presidency.
Swing Left helps you find the most impactful things you can do to help Democrats win the most important elections. 2020 is here, and the work defeat Trump and the GOP in November starts NOW. Sign up to receive actions you can take, as they become available.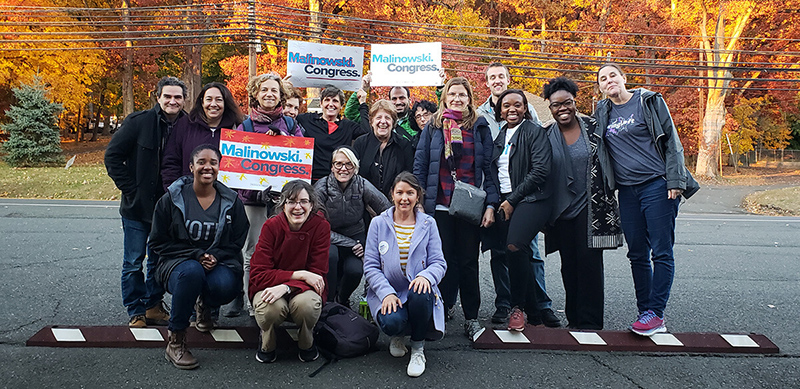 How It Works
When you enter your email address to join Swing Left, you'll be put on a carefully curated mailing list of updates and ways to take action:
Learn more about the most important local and national elections affecting our country
Connect with other volunteers and organizers, in person or online
Fundraise or donate to candidates strategically
Write letters, canvass, phonebank, host or attend events, and more
We focus our efforts on flipping seats from red to blue and winning Democratic majorities. Instead of engaging in the primaries, Swing Left organizes and fundraises year-round to give eventual Democratic nominees critical support in their general election battles.
We can all help save the country from the forces attacking our democracy. But, most of us don't live in Swing Districts or Super States, where races matter the most.
Swing Left makes it as easy as possible for you to have maximum impact on the most important elections — from wherever you live.
Our Promise
Your privacy and your time are vitally important.
We respect your inbox. You'll only receive emails relevant to the work you choose to support.
We won't publish, sell or distribute your email address to a 3rd party.
Action opportunities are carefully curated, focused on the most impactful places and ways to get involved.
Who We Are
Swing Left was started by Ethan Todras-Whitehill, a writer and teacher, Joshua Krafchin, a marketer and entrepreneur, and Miriam Stone, a brand strategist. The three brought in their friends, who in turn brought in their friends, to help build Swing Left in the wake of the 2016 election.
Swing Left has grown into a grassroots movement of hundreds of thousands of people across the country. And in 2019, Flippable, an organization working to turn state governments blue, joined the Swing Left family. The national organization is now led by Executive Director Ethan Todras-Whitehill, Managing Director Matt Ewing, Chief Marketing Officer Michelle Finocchi, Chief Operations Officer Catherine Vaughan, and Chief Political Officer Tori Taylor.
When we started Swing Left, we weren't politicians or professional organizers. We are citizens. And like many people, we'd been sitting on the sidelines for too long. We didn't have all the answers, but we knew it was time to channel our anger and despair in a positive direction.
In the words of Barack Obama, We are the ones we have been waiting for. We are the change that we seek.
And so are you.
Get in touch
Partner with us: [email protected]
For press and media requests: [email protected]
For technical support: [email protected]
For all other issues: [email protected]
Want to join our team? Check out our open positions!