Join now to support your closest Swing District!
---
Trump's election has galvanized the progressive movement, including bringing in many people who've never been politically active before. In November 2018, we'll have the chance to channel this surge of activism into winning back the House of Representatives.
But the Left has a geography problem—we tend to live in deep blue urban areas.1 So how can millions of energized progressives make a difference in Swing Districts, where most of us don't live?
How We Win:
Unleashing Electoral Activism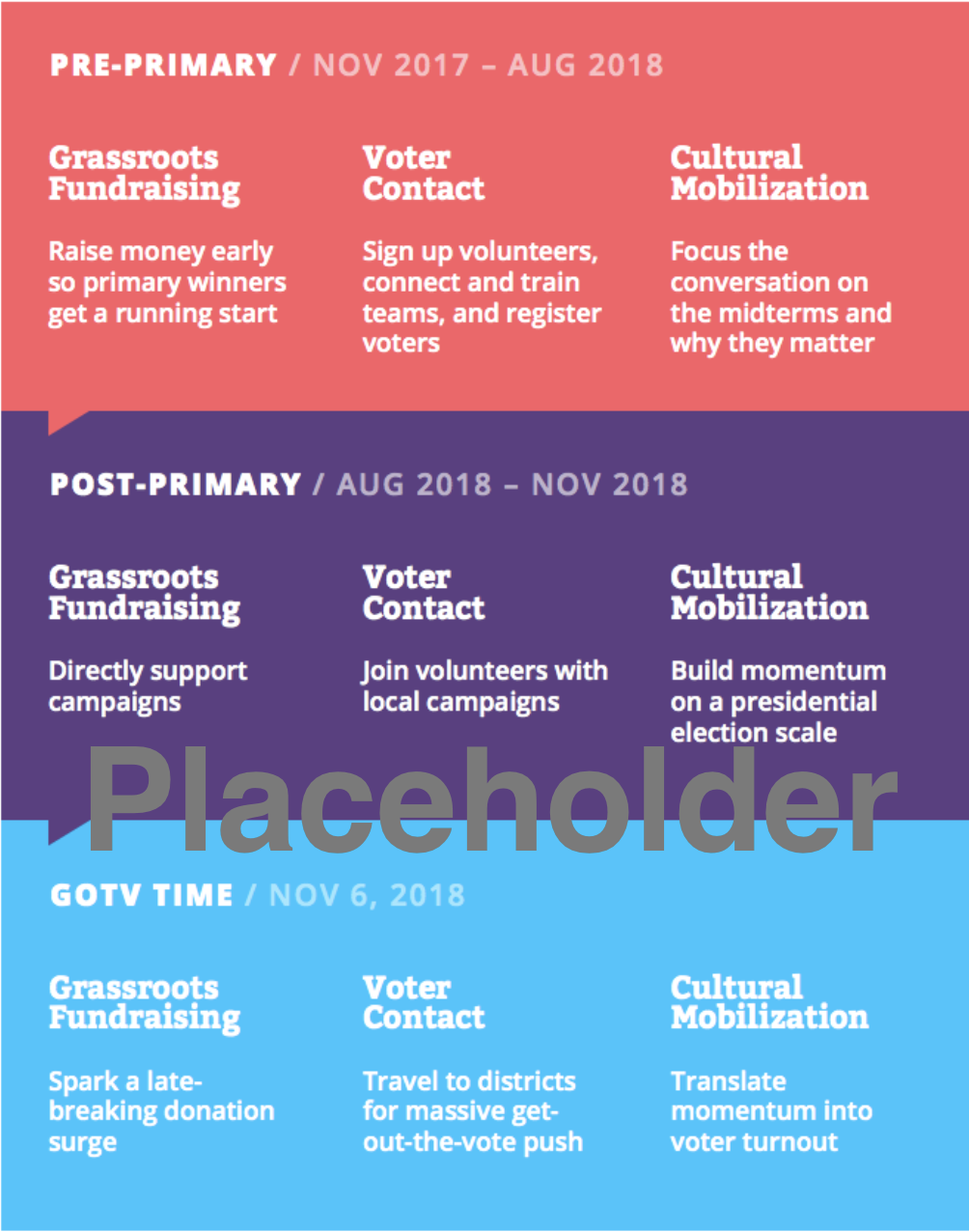 ---
Swing Left's plan is to direct the massive energy of the Left to the places and actions that will have the most impact in the midterm elections. We've identified three key tactics that anyone can do to help flip the House, no matter where you live.
---
Voter Contact: Ultimately, we'll win by getting more Swing District voters who share our values to vote on Election Day, and nothing is more effective at turning out voters than face-to-face conversations.2 That's why we're aiming to build the largest grassroots Swing District voter contact machine in history. We've started early, laying critical groundwork for next November. Volunteer With Swing Left.
---
Grassroots Fundraising: Nominees usually emerge from primaries cash poor, while their incumbent opponent has been amassing funds for years. That's why we're raising as much money as early as possible, to give the Democratic challengers to Swing District Republicans a running start.3 Donate to District Funds or Fundraise.
---
Cultural Mobilization: Midterm elections typically don't get the attention they deserve. Our goal is to get everyone talking about the midterms in ways that inspire action—and ensure the elections stay top of mind, all year long. Share our #WhyTheHouse video.
---
The elections may be in November 2018, but the work to win them is happening now.
For a deeper dive, download Swing Left's Complete Guide to Winning Back the House.
---
1Progressives are everywhere, but they're concentrated in cities. According to 2016 exit polls, 60% of urban voters went for Clinton vs. just 34% for Trump. That was the mirror image of the rural vote. Meanwhile, the suburban vote was more evenly divided. CNN
2Want to learn more? Check out the book Get Out The Vote
3The candidates with more money win Congressional elections 91% of the time. Washington Post. At least 36 Democratic challengers are outraising their Republican opponents. Politico