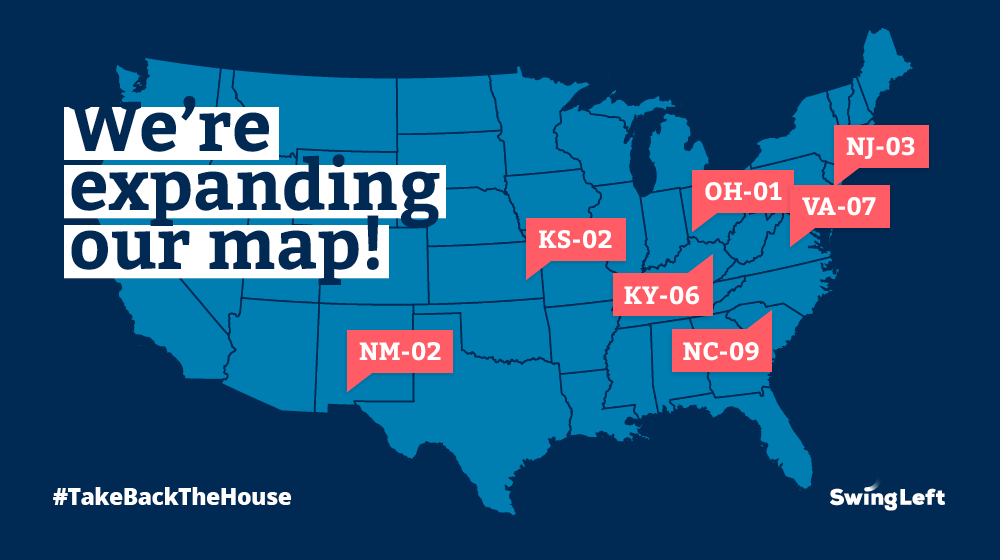 Swing Left is adding seven new Swing Districts to its map. There are all races where strong Democratic candidates are turning deep red districts into toss ups.
KS-02 includes Topeka, and Lawrence, home of University of Kansas.
KY-06 encompasses Lexington and the state capital of Frankfort. Our first Kentucky Swing District!
NC-09 marks a great opportunity for progressives in nearby Charlotte to get involved.
NJ-03 stretches from the Philadelphia suburbs to the Jersey Shore.
NM-02 spans the southern half of the state and includes part of Albuquerque. Our first New Mexico Swing District!
OH-01 includes much of Cincinnati. Our first Ohio Swing District!
VA-07 is in central Virginia, including the suburbs of Richmond
Know someone near one of these Swing Districts?
This brings us to 78 total Swing Districts. And with six months to go until Election Day, we're asking everyone to re-commit to making as much of a difference as they can in their closest Swing District.